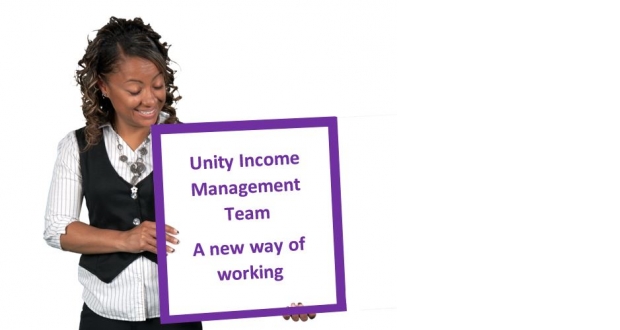 Renting A Home
---
Unity's Income Management Team A new way of working
As part of our Corporate Plan, to improve our services to you, the Income Management Team is changing the way we manage rent accounts and debt.
The new Income Management Team
Firstly, we have employed a brand new Income Management Assistant.
Our team is now made up of an Income Management Assistant (Dominique), two Income Management Officers (Sam and Russell) and an Income Management Team Leader (Clive).
Account management by debt
Secondly from the 7th June 2022 the Income Management Team will not be using estate patches. You will not have a dedicated Income Management Officer for your address.
Instead, the Income Management Officer managing your rent account will be allocated according to the debt balance at the point of contact, as follows:
Dom – all accounts with a credit, or a debt up to £149.
Sam – accounts with a debt between £150 and £399.
Russell – accounts with a debt between £400 and £999.
Clive – accounts with a debt above £1000.
Advantages:
• During the debt journey of your account, you will speak to and your account will be examined by, different officers, each with their individual strengths. Having a range of skills and experience being applied to your account, it is believed that you will be more effectively supported back to tenancy sustainment.
• In addition, the team will be able to support each other to be as effective as possible at each stage of the debt journey. Colleagues will be able to act as critical friends to each other if the case does escalate through the debt bandings and learn from each other.
Our Income Management Team will focus on early intervention, support and outbound contact with you.
How this works when you telephone us
You may already have noticed that we have introduced a new telephone system. When ringing the office on 01132007700 you will:
• Push option 3 to make a payment and the Customer Services Team will take the payment.
• Push option 4 to talk about your rent account and a member of our Customer Services Team will try to answer the query. If they can not answer the query then they will pass the call to the relevant Income Management Officer based on the amount of debt.
Support for our tenants
We know that is very financially challenging for our communities at the moment. As a result, we have formed a working group to explore what more we can do to support our tenants, through advice, partnership and direct support.