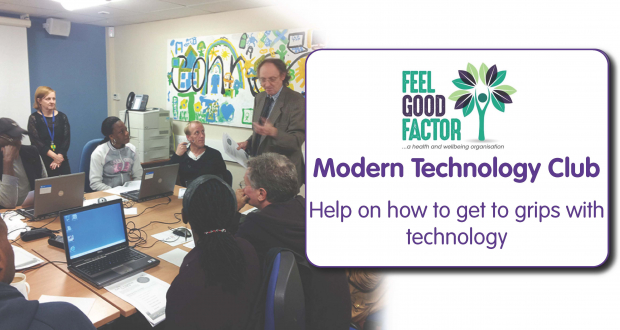 Modern Technology Club
---
Date:

Tuesday, May 22

Time:

10:00 am.

Location:

Feel Good Factor, 53 Louis Street, Chapeltown, LS7 4BP
The Modern Living project is not just for the over 60s!
Anyone who needs a hand getting to grips with technology is welcome to drop in on Tuesdays at Feel Good Factor, 10am – 12 noon (term time only).
Modern technology has fast become the norm for most of the population, with words like 'tablets, smart phone, texting, social networking, e-shopping' becoming words we use everyday without even thinking! Children can often use a piece of technology before they can speak nowadays! For many people, modern technology is not something they are familiar with and they may not have had opportunity to learn about this.
This is a fantastic introduction to modern technology – aimed at beginners to technology, you will receive tutoring in how to use computers, tablets and mobile phones along with other forms of technology. You can also look at how to keep yourself safe online, using social media, setting up email and lots of other useful tips that will help you and those you know better understand and use modern technology.
Whether you've never touched a computer before, just need a hand with using your mobile phone, or want to build your skills or confidence or meet some new people, Modern Living is for you. If you have your own computer/ mobile phone or tablet bring this along and if not, not to worry we can provide you with a laptop to use. Please ring Feel Good Factor's office for more details.
Just 50p to cover refreshments costs.
Call Esther 0113 350 4200 for more information.