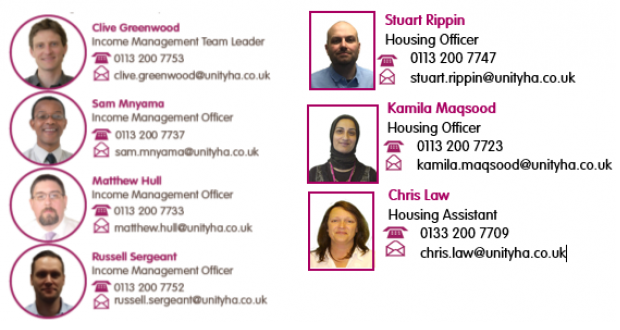 Renting A Home
---
Meet the team
If you have a question regarding your home, your rent, your benefits, your work or your voice in Unity – you will want to speak to the right person. That's why we'd like to introduce the Unity team.
The recent recession and the Government's Welfare Reforms have put a lot of financial pressure on our tenants, which means that a lot of people need more support than ever before. This is why we've expanded our team; to help and support you in your home and give a more specialised service.
Income Management Officers
Sam Mnyama and Russell Sergeant
Sam and Russell deal with rent collection, arrears arrangements, court action and recharge debts.
If you are struggling to keep up to date with rent payments and would like to make an arrangement with us to clear them.
Call Sam on 0113 200 7737 or email sam.mnyama@unityha.co.uk
Call Russell on 01130 200 7752 or email russell.sergeant@unityha.co.uk
Income Management Team Leader
Clive Greenwood
Clive's role as Income Management Team Leader is aimed at helping you to maximise your income by making sure you are claiming all the benefits you are entitled to and helping you budget to make your money go further. Book an appointment with the Income Management Team Leader if you could benefit from:
Advice managing your income and outgoings
Help creating a plan so you can pay the most important bills
Help reaching a solution if you are struggling to pay your rent
Help if you are worried about your housing benefit being reduced
Help if you are worried about paying your rent after Universal Credit is introduced
Help getting a bank account or advice about which bank account will best suit your needs
Support with online banking or managing your rent account online
Advice about affordable contents insurance packages
Help tackling any problems you might have with debt
Advice about where else you might go to get help
Call Clive today on 0113 200 7753 or email clive.greenwood@unityha.co.uk
Housing Officers:
Matthew Stuart and Rebecca
Matthew, Stuart and Rebecca deal with estate management, anti-social behaviour and neighbourhood issues.
Matthew, Stuart and Rebecca continue their roles as Housing Officers but will no longer deal with rent arrears. This will leave them free to tackle more neighbourhood issues and to take a stronger line on tenancy enforcement.
To find out who your Housing Officer is and to contact them click here.
Housing Assistant
Chris Law
If you are new to Unity, Chris is probably one of the first people you will meet as she deals with lettings and allocations.
If your home no longer matches your needs and you are thinking about moving Chris may be able to help you find the sort of accommodation you are looking for.
Employment Service Team
Kelly Jennings, Lorraine Charlton
If finding work could be the answer to your money worries, look no further than the Employment Services Team.
Kelly and Lorraine provide free one-to-one advice and guidance for people looking for work or training opportunities or people hoping to advance in their career. They will take the time to assess your needs and skills and help you find an opportunity to suit you. For more information about Unity' Employment Services Team click here.