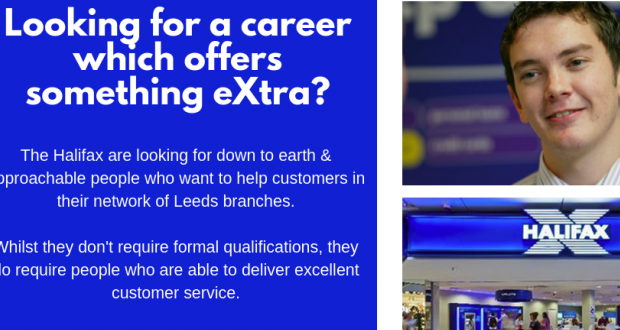 Halifax information sessions
---
Date:

Wednesday, Nov 14

Time:

1:00 pm.

Location:

Halifax Bank, White Rose Shopping Centre, Dewsbury Rd, Leeds LS11 8LL
The Halifax are recruiting for Customer Advisers & Apprentice Customer Advisers to work throughout their local network of branches.
Whilst the Halifax do not require any formal qualifications they are really interested in the personal qualities applicants can bring to the roles.
The Halifax offers Full training, Flexible working, Excellent rates of pay and Good career opportunities – Some Saturday work is required.
Each information session will last for approximately 90 minutes and will provide:
An overview of the role
Information on the qualities & requirements for the role
To hear from an employee about working for the Halifax
Hints & tips – Applying for the role
Information on the application & interview process
An opportunity to ask questions
A tour of the branch
The information sessions take place on Wednesday 14th November:
13:00-14:40 – Customer Adviser – Full & part time opportunities
15:00-16:30 – Apprentice Customer Adviser
Places are limited and anyone interested should book a place via Eventbrite