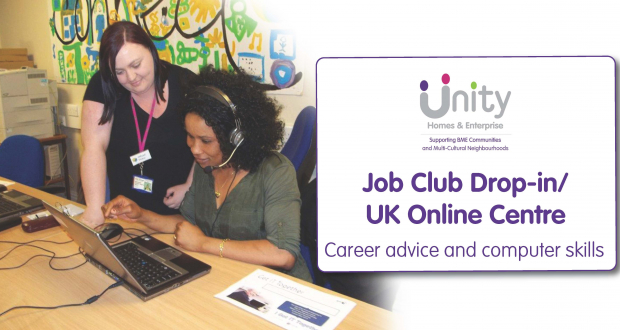 Job Club Drop-In/UK Online Centre
---
Date:

Thursday, Nov 16

Time:

11:00 am.

Location:

Unity Business Centre, 26 Roundhay Road, LS7 1AB
Could you do with free access to a computer to help you search for and apply for jobs online?
Do you struggle to book a computer at the library?
Do you need some extra support from our Employment Team?
Our Job Club is a drop in session where Unity's Employment Services staff will help you find work opportunities. Visit our Employment Hub at Unity Business Centre to use one of our computers for free. Our Employment Team will be on stand-by if you need help using the Universal Jobsmatch Service or any other job search site.
The session includes:
Creating a CV
Applying for jobs online
Developing your interview skills
Find job opportunities
Access the UK's most powerful online job search toolkit called 'My Work Search'
Unity is also a registered UK Online Centre so If you struggle using computers and would like some free training and support, we can help you!
Unity can also provide you with log in information so that you
can access resources from anywhere, but you need to get in touch with us first.
The modules that you can access are:
Using your computer or device
Online basics
Internet skills
Online safety and many more!
Call Noma on 0113 200 7746 or click here to email
Call Kelly on 0113 200 7738 or click here to email