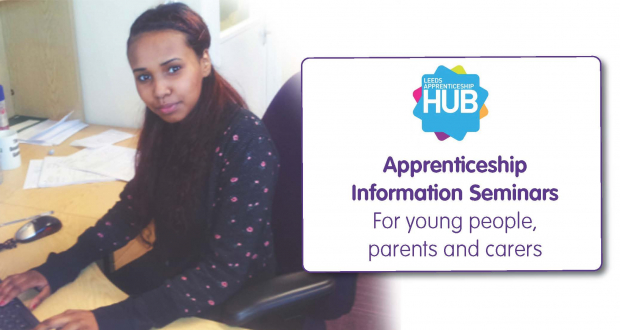 Leeds Apprenticeship Seminars
---
Date:

Thursday, Nov 16

Time:

6:30 pm.

Location:

Leeds Beckett University Lecture Theatres, Rose Bowl Building Portland Crescent Leeds LS1 3HB
If you want to know more about apprenticeships then these are the most important events you could attend!
Listen to major employers in the city talk about apprenticeship opportunities and be inspired by the range and level of vacancies available.
Find out about the new apprenticeship programmes including Degree Apprenticeships and Masters qualifications at University
Listen to apprentices talk about their experiences of gaining qualifications at all levels whilst earning a salary and without incurring debt
Find out about opportunities in a range of employment sectors, the route ways in, the skills needed and the progression afterwards
Please note: – Places are limited so please book early to avoid disappointment.
There are six seminar sessions in total, with 2 sessions per night to take place over one week, Tuesday, Wednesday and Thursday, 14th, 15th & 16th November 2017. These will be held in the Leeds Beckett University Rose Bowl Lecture Theatres. Seminars will start at 6.30pm and run until 8.15pm.
You can book onto one seminar each night.
Tuesday 14th Nov 2017: 6.30 – 8.15pm
Engineering / Manufacturing
Law / Finance / Accountancy
Wednesday 15th Nov 2017: 6.30 – 8.15pm
Construction
IT / Digital / Media
Thursday 16th Nov 2017: 6.30 – 8.15pm
Retail / Customer Service / Hospitality
Public Services
If all places are fully booked and you are unable to register for a seminar please email simon.hewitson@leeds.gov.uk to indicate which session you are interested in. We will keep your details safe and will alert you of future events / material that might be suitable.